Blog
Closing the gap with formal education
Is your career on the right track? For engineers and technicians working in the rail sector, multiskilling is essential to the firms they work for to remain relevant to major projects. For many, there is an evident gap in formal training and recognition of skills.
At Hanlons, we recognised this gap as a regional surveying firm, deciding to formally validate our industry knowledge by enrolling our Engineering Consultant, Tim McLean in the Diploma of Engineering Infrastructure (Rail) delivered by the University of Tasmania in conjunction with Engineering Education Australia.
With several years of railway infrastructure experience, combined with a thorough knowledge of environmental planning and an undergraduate degree in engineering technology, Tim possesses the diverse knowledge required in the industry. The missing link was a qualification to make Tim a registered engineer that would allow Hanlons to obtain Category B Engineering Authority from TfNSW. The flexible learning model allows Tim to remain in Tamworth and continue in his role at Hanlons, while learning more alongside others in the rail industry.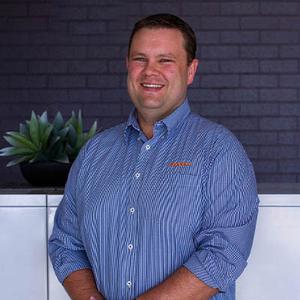 As regional rail is a strong focus for Hanlons, much of our work involves track survey and design, updating infrastructure to current standards and designing level crossings. With firms in regional NSW so few, having a registered engineer on our team gives us a clear advantage.
Tim's experience with the course has been one he greatly appreciates due to the depth of learning and the perspective to see the bigger picture of rail infrastructure. "It's opened my eyes to just how expansive the industry actually is. For example, being regionally based, we don't deal with metro issues like electrification and overhead wiring. It's been really good to understand the complexities that my colleagues deal with."
Industries are always evolving, particularly with the introduction of new technologies and an increase in globalisation. For industry professionals, it's important to keep learning and discover emerging trends that can better the work they do. At Hanlons, we value education and that is evident through our cadet programs and the continuous study undertaken by our employees. We encourage all professionals to diversify their skill sets and explore further study. You can read more about Tim's experience with the Diploma of Engineering Infrastructure (Rail) here.