Blog
It's our birthday, and we will blog if we want to!
We thought if we kept quiet, no one would know, but now we have hit our 17th birthday it's time to shout out from the rooftops.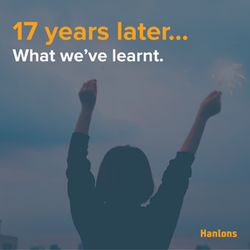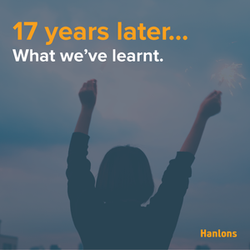 Seventeen years is not a short amount of time in our industry. With technology advancements and changes to regulations, restrictions and practices, Hanlons are proud to have made it this far.
Over the past 17 years we have learnt a lot about business, people and our practice within the engineering and surveying industries.
Lets get sappy and reflect on what we have learnt.
Investing in your own business is crucial. Running your own business is a learning curve, and we have learnt investing, not only in the technology, programs and software, but in the right people, is critical. The success of Hanlons is due to the hard work of our people. We are the ones that stand up, stand out and get things done. We invest in trainee and mentoring programs, and support our staff to further their skills in the industry. This investment has allowed us to move into the future of surveying and engineering in Australia.
Being Genuine, Being Valuable. Everybody hates a fake smile. In regional Australia, genuine transparency is the only way forward. There is nothing worse than bad advice in our industry. It can be both costly and deadly. If our team doesn't know the answer, they will tell you straight up, then they will go and find it. Hanlons take pride in our values and being genuine, that's what makes us priceless.
Almost everything is simple, but almost nothing is easy. The surveying and engineering industry is full of processes, giving a clear road map on how things "should" be. However there are many ways to complete one job, and there are always multiple jobs in each project. There are times where we all want to do it the simpler way, but we now know to ask "is it the best" because it probably won't be the easiest.
Our goal for the next 17 years is to remain an industry leader in all areas. The changing landscape (literally) of our industry allows us to better ourselves every year as a team.