Blog
Regional Hazards
Recently, I travelled to Narromine to meet with a client and the local Shire Council about a potential project. Everything went well and I was feeling happy as I drove out of town for the trip home.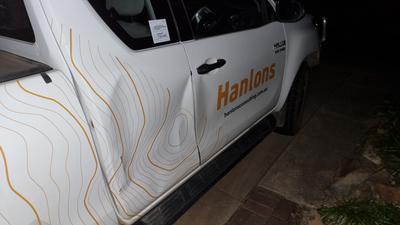 The four hour trip was shorter than others I've driven and the open road home meant there were few hills and mountains we often traverse. All seem well until I encountered a black Angus cow standing in the middle of a causeway on a sweeping bend in the dark. The position the cow was standing in meant the headlights didn't pick up its outline. Fortunately its head and horns appeared in the windscreen early enough to allow me to swerve. The cow clipped the Hilux's bulbar and spun it around so it hit the driver's side door. The cow survived thank goodness but caused over $11,000 in damage.
Now our surveyors are often involved in incidents involving animals, mostly kangaroos. Hence the need for our utes to have bullbars. But what would have happened if the incident with the cow resulted in car flipping over and landing down an embankment. How would anyone know? What if I had been too injured to call emergency 000? What if the location was outside a mobile phone service area?
Our duty of care to our people not only extends on the job site but also whilst they drive between home and work. It doesn't matter if the work site is 10 minutes from home or 10 hours. We want every person to come home every time they leave.
So how do we do this? We make sure our people have sufficient time to travel to the job site. They don't have to leave at 3am, travel 5 hours to the site then work 8 hours. That causes fatigue, doesn't provide an alert surveyor on the job site and increases the chance of an accident due to delayed decision making. We also check in on our people. We call them and they call us.
Whilst this is great, the incident with the cow isn't the only time when we thought "What would have happened if I were injured, or if I had no phone coverage? How would anyone know?" We don't think our risk appetite is that high. Hence, we have decided we need to lift our duty of care so have invested in vehicle tracking and emergency beacon for all Hanlon vehicles.
We care about our people. They are the reason why we exist and why our clients keep coming back. That's why we think they are worth the investment.