Blog
Hanlons Surveyor wins Augustus Alt Prize
Congratulations to Hanlons Graduate Surveyor Lachlan Smith who last Friday was awarded the Augustus Alt Prize by the NSW Board of Surveying and Spatial Information.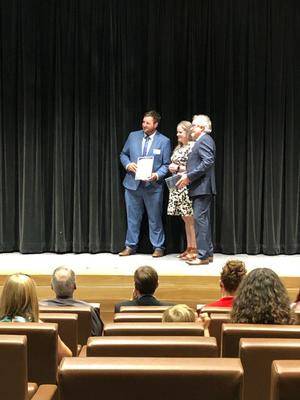 The prize was presented by NSW Surveyor General Narelle Underwood in a ceremony at Parliament House Sydney, alongside the Association of Consulting Surveyors NSW President Michael Lamont.
"Lachlan is a Dungowan local who has shown the value of fostering regional talent. Coming through Hanlons' cadet program and obtaining his degree by distance education, he has shown that with hard work and the right attitude you can achieve anything," said Managing Director Mitchel Hanlon.
"As a mentor I am very proud of what he has achieved."
The Augustus Alt Prize is awarded for the best result in an Engineering project for the Board of Surveying and Spatial Information's assessments. The project involved the engineering design of a housing estate, including roads, sewerage, drainage, water mains, and construction management.
"People often think of surveying as just relating to property boundaries, but really surveyors are integral to the town planning and civil engineering functions of a community. Working in a regional area Lachlan has had exposure to a variety of projects which has been extremely beneficial to his professional development, as proven by this prize," said Mr Hanlon.
The Hanlons cadetship programmes are now open! If you are interested in a career in surveying or are currently studying a Surveying/Engineering degree you can learn more on our Careers page.