Blog
What is and how to be a trainee surveyor!
There are a number of routes you can take to become a trainee Surveyor in this day and age. But essentially you can start your career path right out of school! Ideally you will have an interest in Maths, English, and Geography, but within a traineeship it is all on the job learning.
Surveyors can take on many different tasks and roles during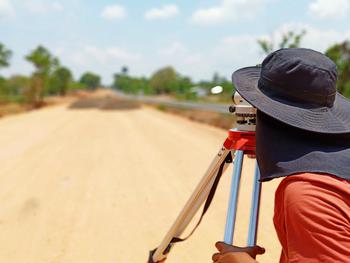 their careers, depending on their qualifications and level of experience.
Surveying students at TAFE and university are able to get a taste of what surveying is really like by starting out as a trainee Surveyor during study. TAFE students can then move into a Surveying Technician or Draftsperson role once they are qualified. Meanwhile, those in university complete their degree as a Graduate Surveyor, with some choosing to specialise in other related fields like geospatial information systems.
A trainee Surveyor will generally support the survey team which would consist of one or a number of Surveyors / Survey Technicians in the undertaking of surveying tasks both in the field and office environments.
Being flexible with the willingness to travel are essential requirements of being a trainee Surveyor, as is the ability to learn a multitude of skills. Being a Surveyor, you are not chained to your desk and the best part of the job involves being out on site at different locations across the country. Being comfortable with computers as the majority of survey information is recorded, processed, and delivered digitally and working with initiative and some independence after training helps.
If you want to see Australia while earning a living and learning new skills, maybe this is the career for you.
Click here to see what careers Hanlons has to offer!